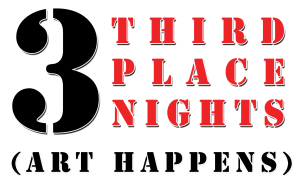 Building Community with Crayolas
Third Place Nights is our monthly open studio evening, for artists of all kinds, all mediums, and all walks of life!
Really, that's you, and your neighbor, and your best friend too!
Everyone is welcome to join us, that's actually the whole idea behind Third Place Nights. From painters, sculptors, printmakers to photographers, writers, poets and even bloggers, musicians, knitters, beaders, we'd love to see you!
So join us, and our growing community too, as we work, share, and yes, laugh and enjoy community happening. (It's a beautiful thing)
How's this Work?
What we'd really like to see you bring are a few well-worn sketchbooks, journals, canvas, laptops, cameras, guitars, just about anything that inspires you to create, converse, and share!
However, we ask those aerosols, noxious fumes, hazardous chemicals, and all that pesky wet clay be left at home. We need to be nice to our fellow artists and friends, and to our facility as well, and it just makes things work better for all of us.
Where's it at?
Third Place Nights are always held on the third Wednesday of each month, from 7-9 pm. We often call The BrickHouse home, but we love to head out on the road too, so check the blog about a week before and we'll announce where to meet.
If you've got a favorite 'third place', a real can't miss spot, as we love those suggestions, feel free to comment below.
We'll look forward to seeing you all, really that's everyone, at Third Place Nights!