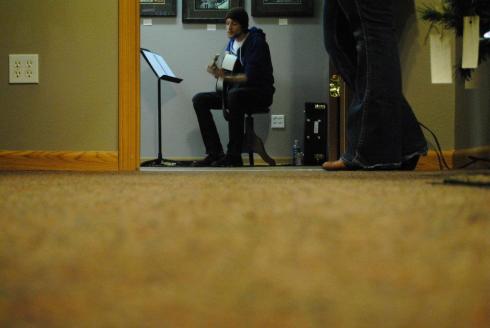 One Night Only
Double Header is our newest programming effort, as we feature a few great regional artists for 1 night with music and a fantastic reception, at The BrickHouse Community Arts Center. Think of it as our kind of house party.
If you would like to be part of our monthly Double Header series as an exhibiting artist, writer, or musician, simply email us at contact@madisonareaartscouncil.org w/several JPEG images, brief bio, and contact information. All mediums are encouraged, from traditional to contemporary, and different is always appreciated.
Our Double Header Guest Artists
May 23rd, 2020 – Special Event 'Selections from Journey Women'
March 14th, 2020 – Special Event 'Almost Home Postcard Salon'
February 28th, 2020 – Special Event 'Burlap Wolf King Hometown Record Release Party' w/Thomas Hentges.
January 12th, 2020 – Jennifer Stone and 'Foundations of Watercolor' workshop participants.
November 1st, 2019 – Lisa Shoemaker & Derek Meier
September 29th, 2019 – Music of 'Phantom Balance' with Carly Rochelle, Angela Meyer, Matt Caffee & William Henderson
August 30th, 2019 – Music of 'Carolina Story' with Nancyjane Huehl & Chad Nelson
May 10th, 2019 – 'Interpretations of Matisse' and 'We're Going Buggy' with Madison High Students
April 21st, 2019 – Chad Nelson, Jerry Fogg w/music of Thomas Hentges of 'Burlap Wolf King'
March 22nd, 2019 – Kari Lynn Steen & Lance Jeschke
February 9th, 2019 – Lacey Lee, Jennifer White w/music of Chad McKinney of 'Doktor Barkey'
January 18th, 2019 – Angela Meyer, Kevin Bierbaum w/music of Tom Weismantel of 'Hippocampus'
November 17th, 2018 – Linn Nelson, Joe Staudenbaur, Megan Pifer & Cody Thompson
October 11th, 2018 – Angela Behrends, Thomas Jones, Alan Montgomery, Noriko Nakamura & Emmeline Elliott
September 14th, 2018 – Jim Myers & Brian Walther
June 9th, 2018 – Lisa Shoemaker, Allyson Nagel & Thomas Jones
May 12th, 2018 – Altman Studeny, Alan Montgomery, John Nelson w/music of Chris Champion
April 14th, 2018 – Jane Ryder, Lacey Lee w/music of Nathan Edwards
March 10th, 2018 – Steve Bormes, Laura Smith, Amber Pate w/music of Tim Jewell of 'The Union Grove Pickers'
February 10th, 2018 – Asher Srednas & Kevin Bierbaum w/music of Jordan Lindgren
January 13th, 2018 – Allan & Eve Fisher w/music of Sandy Champion
November 5th, 2017 – Angela Behrends & Chris Francis w/music of Nathan Edwards
To discover more about these great artists, check out our Double Header tag, or use or 'search' feature to discover your favorites.
The Madison Area Arts Council, along with all of our programming, is sustained and funded by our generous supporters and the ongoing support of the City of Madison, South Dakota.