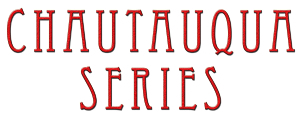 Join the Conversation
Incredible artists, writers, historians, and speakers, all with great stories, and an amazing opportunity to connect with them. That's the promise our ongoing Chautauqua Series.
So, how do we make it happen?
First, we start with the very best local, regional, and even nationally known artists, musicians, and thinkers.
Next, we share their unique story and passions through our monthly published feature, which can be found in the Madison Daily Leader, and here on our blog and on Facebook too.
Finally, we bring their talents to Madison through free and open public workshops, demonstrations, presentations, and performances.
Now, that's a great experience, and that's Chautauqua.
It's who we are
Chautauqua isn't just a name, it's what made Madison, it's our roots, it's our legacy, it's who we are.
To discover the 'Chautauqua Movement' for yourself, take a moment to visit the online Digital Library of South Dakota and the Lake County Smith-Zimmermann Museum, on the campus of Dakota State University.
Show your Support
Chautauqua only happens with your continued support, after all, great programs need great support.
So, if you or your organization would like to co-sponsor one of our forthcoming Chautauqua Series programs, or become an ongoing supporter of this valued programming effort, please feel free to contact us at contact@madisonareaartscouncil.org, and we'd love to work with you.
Join 'Team Chautauqua'
We're always looking for fresh and eager volunteers to help us with our Chautauqua Series programming efforts, especially just before and after each of these great events.
We call it 'Team Chautauqua'. Essentially, arrive at least 1 hour before the scheduled program time, or stay after the program too, as we'd love to use your hands, your minds, and best of all, your spirits.
If you'd like to work with more of this programming effort, please feel free to attend our public monthly meetings, which are held the first Thursday of each month at The BrickHouse Community Arts Center, 106 SE 2nd St, in Madison, at 7pm.