We're eagerly awaiting the arrival of regional artist Steve Bormes for our next Double Header this March at The BrickHouse, so we thought we'd check in with the man behind the lamps and under the rugs, take it away Steve:
My work is comprised almost entirely of vintage and antique items I have found throughout America and Turkey. Of very disparate background, they come together to create whimsical pieces intended to give light to our childhood imaginings. The pieces I'm bringing to Madison are comprised of the following:
Sandbox Series: Volume 3
Pressed steel fire truck, Turkish yogurt churn.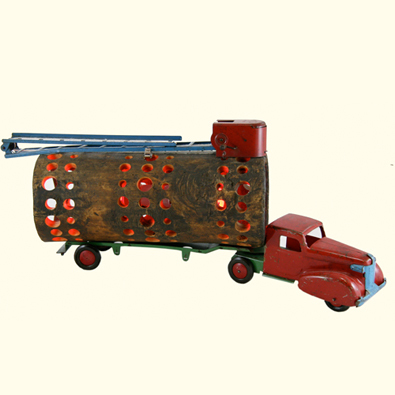 Sweater Babies
Art deco speaker boxes, composite doll parts.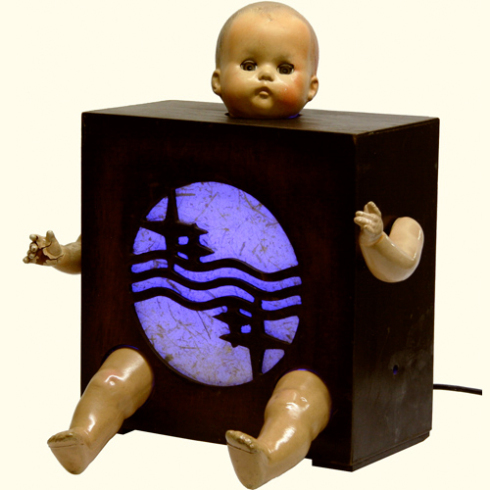 Moj-o-Mat
Turkish yogurt churn; slope-meter; gumball machine dispenser slot; car window crank; pressed metal oil funnel; meat tenderizer blades; egg white separators; composite doll parts
Wow, huh?
It's alright, we thought the same, and we're still looking for our jaw too, it dropped around here somewhere. Actually, Steve is currently showing as part of Natural Selection 2.0 at Dakota State, so if you'd like to get your 'Bormes-fix', head on over, and look for the pink light!
Double Header returns to The BrickHouse on Thursday, March 10th, from 7-9pm, along with Laura Smith, Amber Pate, and the acoustic music of Tim Jewell from The Union Grove Pickers. Check back with us in the coming weeks for a little more Steve, and a lot more from all of our featured artists.