Photographs, artwork of European travels at art show
German desserts and gelato to be served
Emmeline Elliott
The Madison Area Arts Council went to Europe this year.
When MAAC volunteer Angela Behrends took an 11 day trip to France and Italy in May, she brought the MAAC logo with her – a red square and a blue square – and photographed the symbols throughout the visit.
MAAC is celebrating travels in Europe at this month's Double Header art show, titled "Without Borders." Photographs and artwork inspired from recent trips across the Atlantic will be displayed for the one night show, held October 11 from 6 to 8 p.m. at the BrickHouse Community Arts Center, 106 S.E. 2nd St. European desserts will be served as refreshments, including gelato ice cream and German kuchen and strudel made in South Dakota. The show is free and open to the public.
Other area artists and residents who will exhibit pictures and artwork from European trips are Alan Montgomery, Noriko Nakamura and Emmeline Elliott. Photos will feature the countries of France, Italy, Germany, Ireland, England and Denmark.
The MAAC logo was held up by Behrends or her travel companions or propped up against something for a picture. She captured the logo in front of landmarks such as the Eiffel Tower and Notre Dame Cathedral in Paris.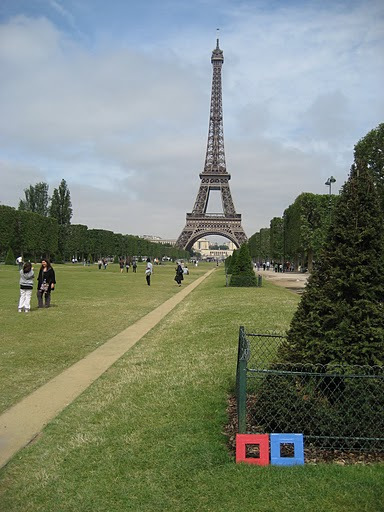 "I carried them with me as many places I could," Behrends said.
In France, Behrends mainly toured Paris. She made stops in Florence, Assisi and Rome while in Italy.
"MAAC went to Europe with me." Behrends said.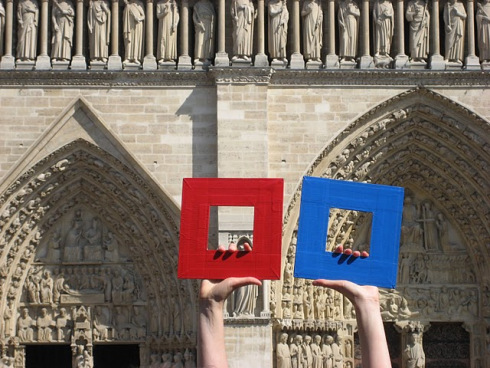 Montgomery will display several mixed media drawings that use collage images of photos he took in France and Italy.
A special collection of pictures and bookmarks from European libraries will be exhibited by Elliott.