New life for antiques at art show
It's the Flintstones meets the Jetsons. That's one way Steve Bormes describes his sculptures.
Bormes Studio in Sioux Falls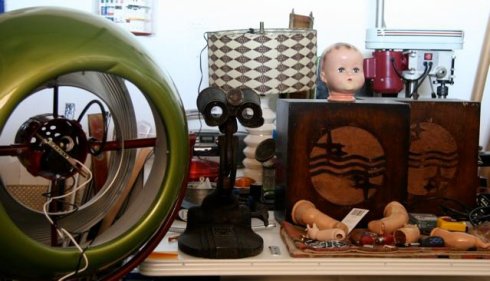 Bormes' work, along with pieces by Laura Smith and Amber Pate, is featured at this month's Double Header art show, a one-night event hosted by the Madison Area Arts Council. The public is welcome to attend the free event March 10 from 7 to 9 p.m. at The BrickHouse Community Arts Center, 106 S.E. 2nd St. Music will be provided by Tim Jewel of The Union Grove Pickers.
Bormes makes sculptures from antiques he finds in the U.S. and Turkey. He began making semiannual trips to Turkey 10 years ago to find carpets, and opened the Rug & Relic store in Sioux Falls seven years ago.
"As I traveled the countryside, you see all these fantastic antiques," Bormes said.
The items were utilitarian in nature. He didn't always know what the objects were used for, but bought it based on its look. Later, he would match it with other antiques – usually items that were never meant to encounter each other – to make a sculpture.
'Sandbox Series, Vol 6'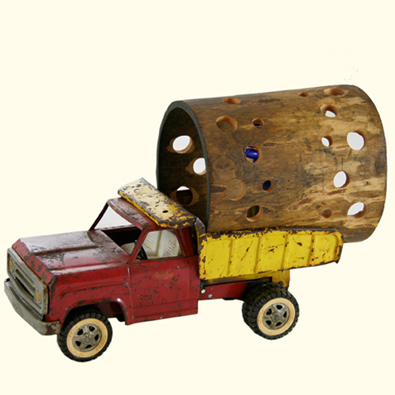 "I like to kind of trick destiny that way," Bormes said.
Bormes said he likes to make contraptions that, theoretically, can do something. All of his pieces light up, and some can fly or swim, he said.
Bormes finds much of his inspiration from his childhood, such as two of his favorite cartoons previously mentioned, Dr. Seuss and the swag lamps of the 1960s and '70s. He made a similar styled lamp from an old wooden Turkish bucket.
Bormes looks through antique stores for fascinating objects that he can later use in an artwork. Numerous miscellaneous materials sit in his workshop waiting for their time to fit into a sculpture, such as straps for work horses, Turkish logs and bowls, kitchen strainers, doll parts and lots of metal objects.
"The main intent is to have some fun and elicit a smile," Bormes said, adding that he loves to hear people laughing together as they look at his art.
Not only does he create art, Bormes works to bring artists and the community together by hosting monthly gatherings of regional artists at his Rug & Relic shop, called First Fridays.
In recent weeks, Bormes partnered with another Sioux Falls business owner on the Telestory Booth project. People can go into an old phone booth and record into the phone a story, joke or whatever is on their mind. He said participating in the Telestory Booth is a unique experience for the different generations.
Bormes inside of Telestory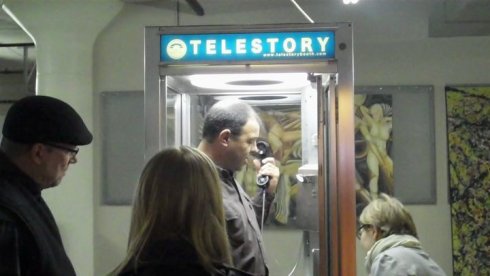 "People my age step in, and it's quiet and it's a real familiar feeling," Bormes said. "A lot of young people have never been in a phone booth."
Forty-one stories were recorded during the soft launch of the Telestory Booth, Bormes said.
"It's fascinating what people are saying," Bormes said. "Some are really funny and make you laugh, and some will pull at your heart."
The Telestory Booth is portable and can be rented for events, Bormes said.
Bormes' work is also part of the Natural Selection 2.0 exhibit at the First Bank & Trust Gallery in the Karl E. Mundt Library of Dakota State University. The exhibit runs until April 1.